Aphrodite
Lead new generation to non-invasive and accurate vaginal treatment!
Visible in sync
Disposable treatment tip
Honeycomb fractional micro-pulses
Vaginal more layers' care
Unique 2100nm Holmium fractional laser and micro-pulses technology
① Unique 2100nm wavelength
2100nm is golden adsorption wavelength to vaginal tissue with lowest water adsorption, single pulse can reach the muscle layer, promotes muscle protein hyperplasia and muscle fiber stronger. Effectively improve the vaginal bulging, urine leakage and relaxation, the effect is more obvious and lasting.

Single pulse up to 12000W laser power, combination with 300ms micro pulse of ultra-short pulse width. Photothermal effect and photomechanical shockwave stimulate vaginal and elastic fiber to tighten instantly and regenerate the collagen, meanwhile gently blasting the moisture in the mucosal ending cells, inducing vaginal surface reconstruction, restore pink color and soft texture, effectively increase sensitivity and lubrication during excitement.
② SMOOTH Treatment Mode
Golden standard of Smooth treatment mode(Defocus multi-pulse heat transfer technology) with 6 pics of micro pulses, precisely control vaginal tissue layers(mucosa/muscle/fiber) under a proper temperature, achieve best photothermal stimulation and non-invasive treatment.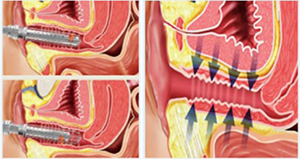 ③ Honeycomb fractional emission and 360° annular tip spot
By the gilded 360° reflector lens, 2100nm laser is emitted to vaginal tissue by fractional way, keeping the heat dispersion area, the vaginal surface tissue is more evenly heated. Accelerate to repair and reconstruct the tissue, more comfortable and safe treatment, no any downtime. No need to rotate the handle during operation, convenient and fast.
④ Disposable sterile treatment tip
Equipped disposable sterile treatment tip for every patient, no need to have extra sterilizing equipment, clean and safe, completely eliminate the risk of cross infection.
| | |
| --- | --- |
| Laser generator | Ho3+: YAG solid laser |
| Laser wavelength | 2100nm±5nm |
| Laser power | 30/40/60W(pulse average power) optional |
| Working mode | Repeat pulse |
| Energy density | 10-5000mj adjustable |
| Pulse width | 250-800μs adjustable |
| Frequency | 1-20Hz adjustable |
| Emission mode | Factional spot |
| Treatment area | Normal; VRL; LVT |
| Treatment mode | Smooth; soft; CW |
| Instability | ≤±8% |
| Replicability | ≤±8% |
| Output mode | 2.5m/SM905 standard port; diameter Φ550um/quartz fiber transmission |
| Indicator | Green light/wavelength 532nm/power≤5mw |
| Treatment handle A | Honeycomb 360° annular treatment handle with disposable sterile |
| Treatment handle B | Fractional scan tip |
| Display | 8 inch color touch screen; 9.7mini laptop |
| Power | AC220V,50Hz, 3500W |
| Dimension | 105cmx45cmx110cm |
| Net weight | 80kg |
Vaginal examination by colposcope screening
Vulva tightening and turning the black into pink
Smooth muscle and Vaginal pelvic floor tightening
Vaginal mucosa repair (sensibility and moisture promotion)
Aphrodite utilizes the advanced guided endoscope on the top of treatment tip, by using a thin catheter to treat precisely under the video, allowing the patient and operate to observe synchronously, reduce the clinical risk maximumly.
Before the treatment, exclude the unsuitable patients by observing vagina and cervix with the chance of inflammation, erosion, polyp, vasodilation, bleeding etc., and record it if with permission to make it true to assess.
During the treatment, monitor the changes of the vaginal tissue and modify the parameters for different area and the sensible area. Reduce the missing and repeated area, more uniform and manage abnormal reactions such as intraoperative bleeding timely.
After the treatment, access the instant reaction of tissue heating and congestion, evaluate the clinical effect, take photos and record for follow-up observation and academic study.