Leaflife Technology Introduces the World's First Fiber Laser Hair Removal Platform to Offer Three Wavelengths.
Leaflife popular Fiber HR Series platform now incorporates 810 Fiber Diode, Alex Diode Laser and Nd: YAG creating the hair removal system to offer 810nm, 755nm, and 1064nm technologies.
Leaflife Technology, a global Leading manufacturer of medical and aesthetic laser equipment, for the aesthetic and surgical markets, announced the launch of 1064 Nd: YAG capabilities on its Fiber Laser Hair Removal platform, creating the world's first fiber laser hair removal platform to offer all three of the most trusted and reliable wavelengths.
Leaflife Technology leads the industry in laser hair removal technology. The company introduced Fiber HR Series to the hair removal market, giving providers the ability to offer extremely comfortable hair removal with 810 Fiber Diode technology. Fiber HR aims to allow the light produced by the multiple diodes to be concentrated in one pulse, and transferred uniformly and directly to the hair through a fibre. The treatment is superior to older diode laser technologies that simply blast the follicle with as much laser-heat as possible.
Now, with the Alex Diode Laser technology and Nd: YAG technology, providers can use the 755nm and 1064nm wavelength to help even more people address unwanted body hair. Fiber HR Trio or Fiber HR II is an advanced integrated permanent fiber laser hair removal system that combines the benefits of three wavelengths – 808nm, 755nm and 1064nm. This technology is the future of diode laser hair removal and guarantees the highest efficiency in treating every skin tone or type and hair color.
755nm, 808nm & 1 064nm fiber laser enables the light to penetrate deeper into skin and is safer than other lasers because it can avoid the melanin pigment in the skin's epidermis. It is used for permanent hair reduction of all color hair on all 6 Fitzpatrick skin types, including tanned skin.
It allows fast repetition rates up to 10Hz (10 pulses-per-second), with in-motion treatment, fast hair removal for big area treatment

Built with excellent contact cooling technology its a PAIN-FREE hair removal technology.

The synergic benefits of the 3 most effective wavelengths for hair removal, each targeting different structures within the hair follicle.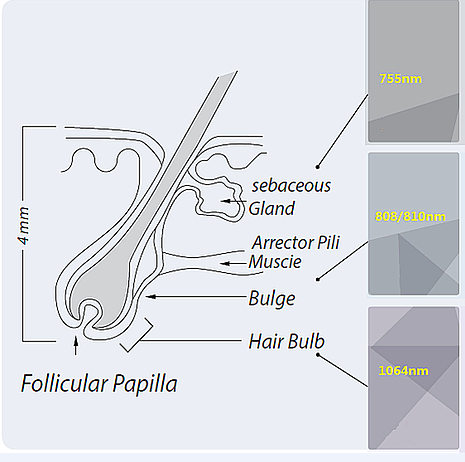 755nm
More powerful absorption of energy from the melanin. A wide range of different types of hair and skin are ideally suited. Particularly suitable length for light and thin hairs.
808nm
Deep penetration into the hair follicle with medium-strength energy with high repeat rate for a faster therapy, normal absorption of melanin. Suitable length for darker skin. For arm, feet, cheeks and chin treating.
1064nm
Low absorption of melanin, focused on a darker skin type. Offers the deepest level of penetration into the hair follicle, scalp hair, armpit and intimate areas.
For professional laser hair removal, this signals a new era. 
For the first time, practitioners will have the ability to select one of three, optimal wavelengths for laser reduction. This innovation puts 810 Fiber Diode, Alexandrite 755, and Nd: YAG 1064 at the operator's fingertips. By evaluating the patient's skin type and hair, the provider can completely customize treatment utilizing the proper technology or combination of technologies to achieve optimal results.
About Fiber HR Trio and Fiber HR II
Continued with stable and durable characters of FCD technology, by incorporating multiple laser wavelengths and technologies, allow practitioners to treat the widest range of patients and hair types all year round, administer treatments quickly and comfortably and achieve the best possible clinical result. Blond hair on light skin can be treated with more obvious effect, even dar skin get safe and more comfortable operation, also better and faster result. Higher power , narrow pulse width, much better efficiency and treatment effect.