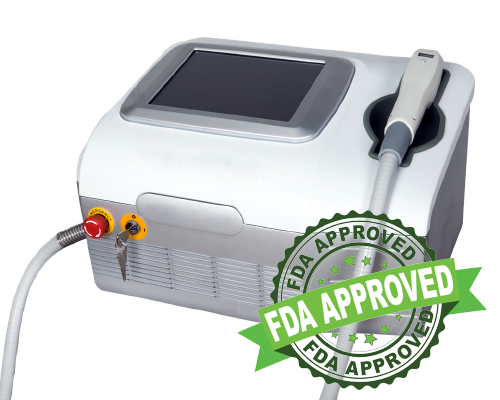 Fiber HR
Portable Fiber Coupled Diode Laser Hair Removal Machine
Applications: Hair Removal, Pigment, Skin Dent, Nevus etc.
FDA Approved (K202980)
Over 50 million shots' lifespan
Uniform energy distribution
4 treatment mode and professional software
Light hand piece and Sapphire contact cooling
Fiber HR is latest portable 1200W 810nm fiber coupled diode laser for hair removal and more applications, compared with normal diode laser, Fiber HR put laser generator in machine inside not in hand piece. So energy and heat transfer are released by fiber. Normal diode laser's hand piece is heavy, expensive but frail, but Fiber HR's is light and strong. So its hand piece can reach much longer lifespan 50 million shots, is durable with nothing consumable.
Latest designed screen has four treatment mode, fast, stamp, classical and custom mode, which meet more types of users' operation by professional and full parameters. 
Fiber Coupled Diode Laser Technology
The light generated by multiple diode laser are coupled into a single-core multimode fiber by micro lens array, in order to deliver light to the target place.
Features:Low damage rate, Uniform energy distribution, Long lifespan, Easy maintenance.
Normal diode laser mostly are Vertical Laser Stack with a number of diode bars, which are arranged in a form of stack. The laser chip are welded on heat sinks to deliver high output energy.
Features: High damage rate, Low life span, High requirement for maintenance.

| | |
| --- | --- |
| Laser type | Fiber Coupled Diode Laser |
| Wavelength | 808nm±10nm |
| Laser power | 1200W |
| Pulse width | 5ms~750ms |
| Energy density | 1-100J/cm2 |
| Frequency | 1-10Hz |
| Skin type | I-VI |
| Operation mode | Repeat, Stamp, Classic, Custom |
| Screen | 10inch LCD |
| Spot size | 12mm*12mm |
| Cooling type | Sapphire contact cooling |
| Cooling temperature | ≤5℃ |
| Size | 650*430*315 mm |
| Net weight | 22KG |
*More specifications about Laser Therapy Device