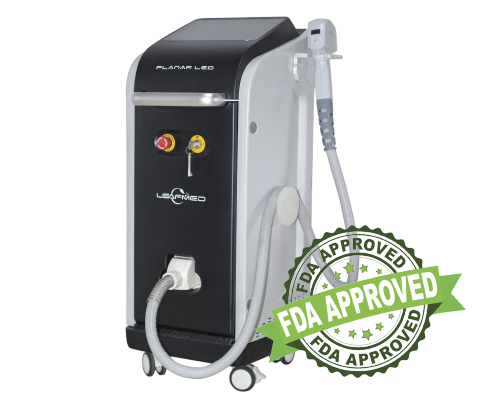 Planar LED
High-power LED Hair Removal Equipment, Japanese and International Patent Technology
Applications: Safe and highly effective for hair removal, even the dark skin
The world's first high-power LED equipment for hair removal
FDA Approved (K220103), Japanese and International Patent Technology
Up to 100 million shots' lifespan
WIFI internet connection
Over 8 years' stable use without any consumable
Planar LED(Vertical LED hair removal machine) features Leaflife's latest hair removal technology – LED hair removal, an international patent technology. Planar LED uses light wavelength 780 – 850 nm mainly absorbed by melanin in follicle, with an small to 15° light's divergence angle, is safe and highly effective for hair removal, even the dark skin.
Brief Introduction of LED Hair Removal
LED hair removal use high-power super-emitting LED (Planar LED) array (12 pieces of chip) as a light source, crystal guide pyramid shaping and transmission of NIR beam, act on the subcutaneous, melanin in hair follicle absorb heat, to achieve hair removal effect.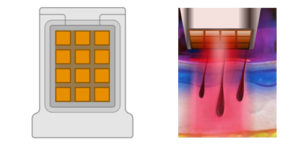 1. High power and energy; excellent clinical effect
>> Total 1200W, 12 pieces of 100W lamp beads( chip) from USA. Chip outside size is small, can collocate chips compactly, to achieve higher power density. Compared with similar VCSL laser( non-channel laser), power density is higher about 70%, enhance clinical effect a lot.
4. Big spot size
>> Big spot size is 17*22mm, efficient hair removal for big skin area.
2. Convenient and solid hand piece                                                          
>> Handle can be changed singly, more strong, even if bending or collision not induce damage. During operation, intelligent LCD window can show being used energy, pulse interval, frequency, and shots count clearly, convenient for operator
5. Intelligent software                     
>>  Two treatment mode: Stamp and Repeat Advanced setting: supplier can manage machine's using well by all the technology design parameters ( alarm record and daily log etc.) Energy calibration function: exact energy can be calibrated in every energy level, precise treatment. WIFI internet connection: convenient remote after sales services.
3. Water cooling and TEC contact cooling
>>  Because of compact chips' collocation, when transmission in light guide crystal, efficiency is high, so still can have sapphire contact cooling. The lowest temp. reach -15℃, cool enough to protect epidermis, comfortable treatment feeling.
Technology
IPL
Diode Laser
LED
Light source features
Light source
Xenon lamp
Diode laser bars
LED chips
wavelength
Wide spectrum 610nm-900nm
Single wavelength 755/808nm/1064nm
Narrow spectrum 780-850nm
Light power
5-10kw
320-1000w
1800w
Light emitting area shape
Columnar
Line
Surface
Pulse lifespan
10000-30000shots
8-30million shots
60-100 million shots
Operation
Operation mode
Stamp
Stamp/Repeat
Stamp/Repeat
Energy density
1-40j/cm2
Stamp:50-100cm2

Repeat:5-12J/cm2@10Hz

Stamp:50-100cm2

Repeat:5-12J/cm2@10Hz

Maintenance
Handle
Always need change light tube
Laser generator is easily damaged, need replace every 1 to 2 years
If normal use and regular maintenance, handle has the same lifespan as device
Filter
No need
Need often change filter and deionizer, if not, laser generator is easily damaged
No need
Cooling water
Drinking water
Special deionized water or coolant
Drinking water
| | |
| --- | --- |
| Light source | LED |
| Light spectrum | NIR |
| Light power | 1760W |
| Pulse width | 5ms-750ms |
| Energy density | 1-100J/cm2 |
| Frequency | 1-10Hz |
| Skin type | I-VI |
| Operation mode | Stamp, Repeat |
| Spot size | 12mm*22mm |
| Cooling system | TEC Sapphire contact cooling/ Water cooling |
| Cooling temperature | -15℃ ~ 10℃ |
| Size | 430*500*870mm |
| Net weight | 35KG |
*More specifications about LED Therapy Device