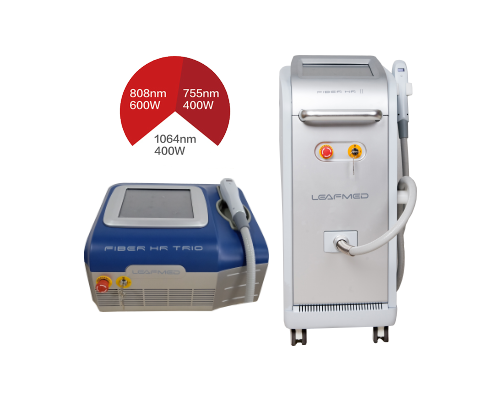 Triple Wavelengths Fiber Laser (1200W and 2100W)
Applications: Hair Removal, Pigment, Skin Dent, Nevus etc.
World's first fiber coupled diode laser with three wavelength(808nm, 755nm, 1064nm)
Over 50 million shots' lifespan
3 spot sizes(12mm, 60mm, 4mm) with more Applications( New handle)
Light hand piece and Sapphire contact cooling
What is Triple Wavelengths Fiber-coupled Diode Laser Hair Removal?
World's First Fiber-coupled Diode Laser with Three Wavelengths Technology
-----------------------------------------------------------------------
Continued with stable and durable characters of FCD technology, Fiber HR Series platform now incorporates 810 Fiber Laser, Alex Diode Laser and Nd: YAG creating the hair removal system to offer 808nm, 755nm, and 1064nm technologies.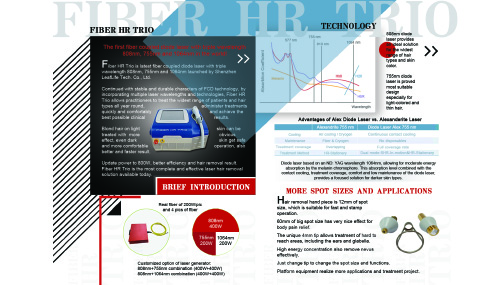 Key Benefits of Three Wavelengths Fiber Coupled Diode Laser Hair Removal
Highest efficiency, Used for all skin type and hair,  Safer than other lasers 
-----------------------------------------------------------------------
755nm, 808nm & 1 064nm fiber laser enables the light to penetrate deeper into skin and is safer than other lasers because it can avoid the melanin pigment in the skin's epidermis. It is used for permanent hair reduction of all color hair on all 6 Fitzpatrick skin types, including tanned skin.
Before & After Photos 
Fiber HR Series: the positive effect after the recommended treatment plan
What our Three WavelengthsFiber Laser do for your business
Clinically-proven Effect
>> Three wavelengths fiber laser technology is the future of diode laser hair removal. That means you can confidently perform hair removal procedures with consistent results.
Best ROI
>> No costly consumables required; Low investment costs, and no disposables required for treatment; Maximum return of investment
Unmatched After-Sales Support
>> Guarantees the highest efficiency in treating every skin tone or type and hair color, keep your more competitive; Marketing support to help you promote hair reduction treatments;
Two Three Wavelengths Fiber Coupled Diode Laser Hair Removal Solutions:

The first fiber coupled diode laser with triple wavelength 808nm, 755nm and 1064nm in the world! ①Over 50 million shots' lifespan ②More spot sizes and Applications ③Sapphire contact cooling ...

Triple wavelength 2100w high power fiber coupled diode laser machine for hair removal and more applications. ①Durable hand piece and long lifespan ②3 spot sizes tips of 12mm, 60mm and 4mm ③WIFI connection...
Fiber HR Series with Three Wavelengths Product Features
>>Over 50 million shots' lifespan
>>Suitable for all color hair and skin
>> Uniform energy distribution
>> 4 treatment mode and professional software
>>Light hand piece and Sapphire contact cooling
>> 3 spot sizes(12mm, 60mm, 4mm) with more Applications( New handle)
We are actively looking for Distributors and Dealers, more favorable prices, and discounts. If interested, contact us soon