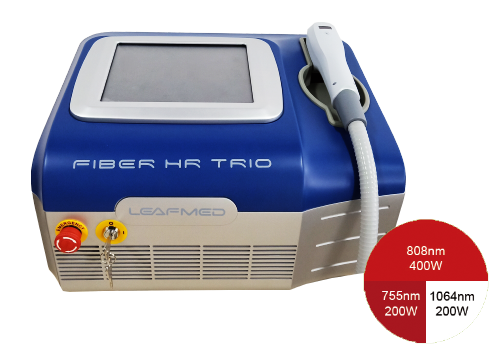 Fiber HR Trio
The first fiber coupled diode laser with triple wavelength 808nm, 755nm and 1064nm in the world
Applications: Hair Removal, Pigment, Skin Dent, Nevus etc.
Over 50 million shots' lifespan
Uniform energy distribution
4 treatment mode and professional software
Light hand piece and Sapphire contact cooling
3 spot sizes(12mm, 60mm, 4mm) with more Applications( New handle)
Fiber HR Trio is latest fiber coupled diode laser with triple wavelength 808nm, 755nm and 1064nm launched by Shenzhen LeafLife Tech. Co., Ltd. Continued with stable and durable characters of FCD technology, by incorporating multiple laser wavelengths and technologies, Fiber HR Trio allows practitioners to treat the widest range of patients and hair types all year round, administer treatments quickly and comfortably and achieve the best possible clinical results.
Blond hair on light skin can be treated with more obvious effect, even dark skin get safe and more comfortable operation, also better and faster result.
Update power to 800W, better efficiency and hair removal result. Fiber HR Trio is the most complete and effective laser hair removal solution available today.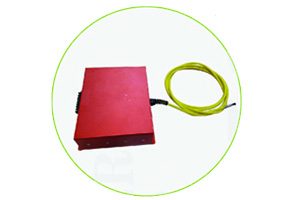 1.  Real fiber of 200W/pic and 4 pics of fiber.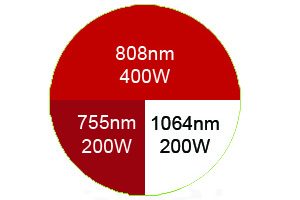 2. Customized option of laser generator: 808nm+755nm combination (400W+400W) / 808nm+1064nm combination (400W+400W)
808nm diode laser provides an ideal solution for the widest range of hair types and skin color. 755nm diode laser is proved most suitable design especially for light-colored and thin hair.
Diode laser based on an ND: YAG wavelength 1064nm, allowing for moderate energy absorption by the melanin chromophore. This absorption level combined with the contact cooling, treatment coverage, comfort and low maintenance of the diode laser, provides a focused solution for darker skin types.

| | |
| --- | --- |
| Laser type | Fiber Coupled Diode Laser |
| Wavelength | 808nm, 755nm, 1064nm |
| Laser power | 800W |
| Pulse width | 5-800ms |
| Energy density | 1-100J/cm2 |
| Frequency | 1-10Hz |
| Skin type | I-VI |
| Operation mode | Repeat, Stamp, Classic, Custom |
| Screen | 10inch LCD |
| Spot size | 12mm*12mm; 4mm; 60mm |
| Cooling type | Sapphire contact cooling |
| Cooling temperature | ≤5℃ |
| Size | 650*430*315 mm |
| Net weight | 22KG |