Event Name: 22nd Dubai World Dermatology and Laser Conference & Exhibition-Dubai Derma 2023.
Booth No: 419
Event Date: 1-3rd March 2023.
Event Venue: Dubai World Trade Centre – DWTC PO Box 9292, Dubai, UAE
Exhibition Hall: 04.
This year, once again, LeafLife Tech team is ready to attend the renowned Dubai Derma Exhibition as to spread the perfect synergy imaginative innovation, design, professional medical equipment and aesthetics around the world. LeafLife Tech family and members much oblige to greets everyone at the Event as follows;
Shenzhen LeafLife Technology Co.,Ltd with the background of the design and manufacturing of professional medical aesthetics equipment, eagerly awaits to bring & showcase the innovative medical & beauty devices as below to the world including Medical professionals, Distributors, Retailers and related personals of this industry.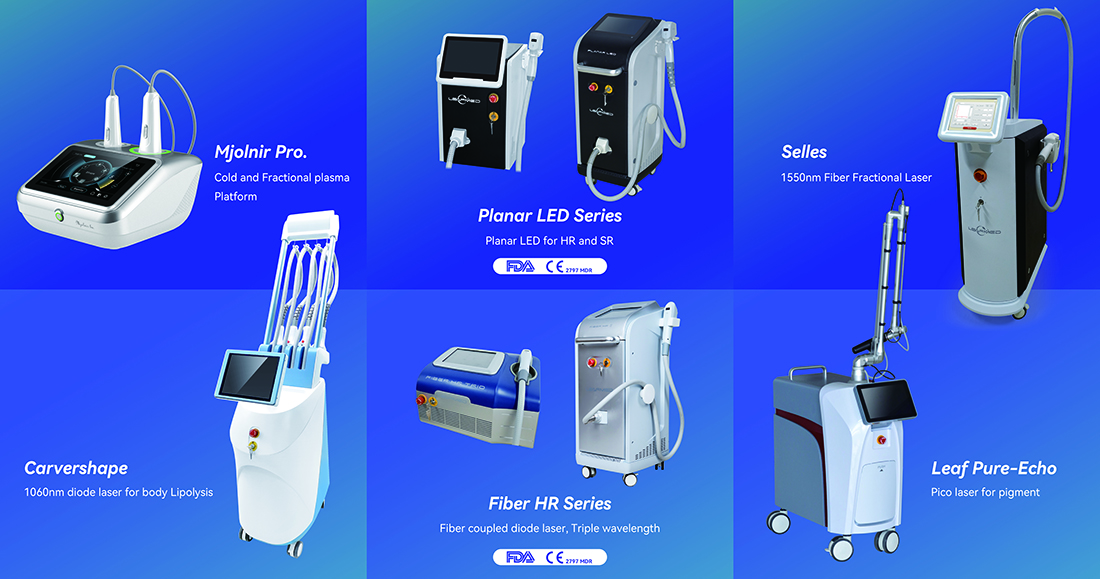 World's First Patented Fractional & Cold Plasma treatments of Professional Device- Mjolnir Pro. The latest version of Plasma series with innovative cold plasma handle. Mjolnir Pro has the fractional & cold plasma technology as to work under the controllable way,the needle shaped plasma column is released to the skin surface dot by dot. Mjolnir Pro is  the best solution to replace all the fractional beauty technologies for perfect face and body rejuvenation.
Along with Mjolnir Pro, LeafLife would present a home use personal device named Mjolnir Mate which represents the cold plasma technology of Mjolnir Pro as to take care of daily needs for individuals.
Updated 1800W Light Power with up to 100 million shots Hair removal series of Planar LED, which is the first high power LED equipment for hair removal with patented Japanese & international technology using the latest chips designed in USA. We also developed the home version of LED hair removal technology, Planar LED Mate. Innovative and powerful professional technology, to achieve safe, painless and efficient hair removal at home; Fiber HR Series are fiber coupled diode laser with triple wavelength to meet different prototype, three spot sizes' tips for more applications including body pain relief, and removal of Nevus and moles and epidermis pigment/vascular etc effectively. 2100W high power, standard 3-4 treatment times, stable performance and effective results prove Leaflife's hair removal series are best choices in the market. Both FDA and Medical CE(MDR) approved certificates ensure professional and better efficiency and distribution business.
Added Professional & home use machines which will also be demonstrated as:

LeafSilky & LeafSmooth ( FDA Approved) multi-functional personal IPL beauty & hair removal devices, innovative removable filter design, high energy density, long lifespan to achieve smooth skin all over face and body at home.
Selles non-ablative Erbium 1550nm fractional laser with extremely small beam dots, designed for skin resurfacing including Scars, Wrinkles, Anti-aging, skin texture and tone etc.
Ultraptor is characteristic HIFU for SMAS with Multi-head design to ensure innovative way of skin tightening and lifting.
Carvershape 1060nm diode laser permanent fat melting, a breakthrough non-invasive hyperthermic laser technology, designed to safely and effectively eliminate unwanted fat cells.
WinForth newly added RF Therapy device platform improves the results of your massage by reaching deep-seated conditions that hitherto have been deemed unreachable. Simple and intuitive operation function, make energy supplement to each of your professional manual techniques, provide your patients with a faster, more comfortable and pain free recover. WinForth energy is a high frequency current oscillating between 300 kHZ, 500 kHZ and 1 MHZ.
LeafPure Series which remarkble innovative dual wavelength picosecond laser with both non-fractional & fractional and Q-Switched Nd:YAG laser featuring the integrated Handpiece and PTP provide enhanced power and versatility for endogenous pigmentation and exogenous ink particles (tattoos) including Melasma, PIH, Freckles, Birth Mark, Skin Rejuvenation, Carbon Peel, Dark Lips Lightening etc.
Rocozyer is physiotherapy robot for radio frequency heated massage and rehabilitation with the advantage of the self-service, Virtual operation demonstration before use, safe and secure, network management and latest artificial intelligence, profitable investment.
All the visitors will have warm welcoming gesture from LeafLife Team and surely could experience the new technology and advanced machine they would like to as LeafLife Team will have professional nurses for their support and will introduce the process  of the related beauty care machines. LeafLife Team always appreciate your attendance at the Exhibition!
Dubai Derma 2023 will be held from 1st – 3rd March, 2023 at Dubai World Trade Centre (DWTC), United Arab Emirates. The Leading Dermatology & Laser Event in the Middle East. It is a platform that provides the latest scientific information and innovations in the field of dermatology, skincare and lasers. The Dubai World Dermatology and Laser Conference & Exhibition is a unique event that will present a perfect opportunity for all participants to boost and update their knowledge in dermatological science and technology through a variety of courses, workshops, and lectures. Under the event's theme, 'Shaping the Future of Dermatology and Aesthetics,' the conference will cover many topics including medical, therapeutic, paediatric, surgical, and cosmetic dermatology.
The Dubai Derma 2023 exhibition will showcase the products and services in categories such as: AHA Products,Laser System & Platforms,Aromatherapy,Laser Surgical Instruments,Aesthetic,Medical Devices,Natural Product & Fruit Acids,Internal Skin Care,Nail Treatments,Anti-Inflammatory Treatments,Medical Implants,Personal Care,Acne Medicines & Treatments,Photo Equipment for Dermatology,Mineral Baths & Salts,Aroma Body Care,Laser Delivery Devices Massage System,Hydrators,Mesotherapy Treatments,Nutrition Supplements,Astringent,Baby Care Products,Microdermabrasion Procedures,Anti-Aging Products,Medical Beauty Equipment,Hygiene Appliances,Laser Therapy,Anti-Wrinkles,Beauty Services etc.
The exhibition will welcome over 1,200 international brands from 110+ participating countries, and nearly 21,000+ qualified visitors. Time spent at the Dubai Derma exhibition will provide you a productive and exciting experience.
Be sure to join Dubai Derma 2023 to expand your network and learn from leaders in the dermatology industry!
N.B: At the DUBAI DERMA main event LeafLife will provide to our visitors courtesy pricing for the demonstrated product samples!