Tecnologia LED per la depilazione
La depilazione LED utilizza un array LED super-emettente ad alta potenza (Planar LED) (12 pezzi di chip) come sorgente luminosa, modellatura piramidale e trasmissione del fascio NIR, agisce sul sottocutaneo, la melanina nel follicolo pilifero assorbe il calore, raggiungere l'effetto depilazione. Tecnologia dei brevetti giapponese e internazionale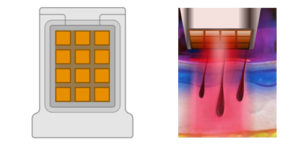 Vantaggi della depilazione del LED:
1. durata della vita lunga e alta stabilità
Fino a 100 milioni di scatti e 5 anni di durata di servizio prevista (meno del 10% di guasti e 20% di attenuazione di potenza), senza alcun materiale di consumo. Prestazioni stabili, basso tasso di malfunzionamento, nessun tempo di fermo. Manutenzione molto semplice e servizi post-vendita. Basso costo di esercizio, ma alto ritorno sull'investimento.
Perché la durata e la stabilità della sorgente di luce a LED è molto meglio del laser a diodi?
Laser a diodi
LEDVantaggi del LED
Danno termico
Potenza della luce
Simile
Il rischio di ustioni causato dal surriscaldamento è molto più basso.
Energia termica
Simile
Dimensione del chip
1*10nn
7.5*7.5mm
Conclusione
Potenza termica totale simile, il LED ha una maggiore dissipazione del calore e una minore densità del flusso di calore.
Patch di trasferimento di calore
Passare al fondo e dietro Il percorso medio è di 1,5 mm
Passare in fondo

Il percorso medio è di soli 0,2 mm

Conclusion
Il LED ha un percorso di trasferimento di calore molto breve, una resistenza termica inferiore e un'efficienza molto più elevata della dissipazione del calore.
Danno meccanico
Stress
Rettangolo, alto rapporto larghezza-lunghezza.

Sotto stress di deformazione termica ed affaticamento termico, scheggia facilmente dissaldando o rompendo nel lavoro pulsato

Quadrato, rapporto lunghezza-larghezza 1: 1. Chip ultrasottile e ampia area di saldatura con forza ma a basso stress.
Il rischio dissaldante e rotto è molto più basso.
Conclusione
Because of chip structure, LED chip's stress is smaller than diode laser
Optical damage
Light power
Similar
The burning risk of light emitting area is much lower.
Light emitting area
Size 0.01*0.1mm

High brightness, foreign body pollution can cause light-emitting surface burned

Size 5*5mm

Brightness is just similar to normal LED lamp of flashlight, slight dust will not being ignited to burn the lighting surface

Conclusion
A causa della struttura del chip, lo stress del chip LED è inferiore al laser a diodi
Danno alla catena
Non come il laser a diodi, per i chip LED, il guasto di una singola area non influisce su altre aree di emissione
Nessun rischio di danni alla catena
2. Lunghezza d'onda e spettro ragionevoli
I LED planari utilizzano vicino alla luce infrarossa con lunghezza d'onda 780 ~ 850nm, poco assorbito dal tessuto cutaneo e vascolare ecc., Ma principalmente assorbito dalla melanina nel follicolo, quindi l'epilazione è altamente efficace.
Lo spettro della luce ha larghezza, quindi può essere applicato a più colori della pelle, compresa la pelle scura.
3. Eccellente emissione di superficie
Un punto uniformemente rettangolare con una buona consistenza, l'energia è uniforme, nessuna sensazione dolorosa durante il trattamento. Sorgente luminosa di array di superfici, max. luminosità locale, non dannoso per gli occhi umani anche se orologio diretto.
B L'area di emissione luminosa planare, il punto rettangolare uniforme e l'angolo di divergenza della luce sono piccoli fino a 15 °, penetrano facilmente nella pelle, profondità di penetrazione molto profonda, può anche essere trattato un follicolo pilifero profondo.