Leaflife Mjolnir Series is the first fractional fibroblast plasma equipment, which is best solution to replace all the fractional beauty technologies as innovative design for a perfect face and body rejuvenation.
What is Fibroblast Plasma Pen
As we age, the dermal layer of our skin thins, we produce less collagen, and we lose elasticity. All of these factors produce sagging and wrinkling of the skin. The Plasma Pen is the newest cosmetic procedure targeting a wide variety of skin conditions including loss of elasticity, sagging, and wrinkles that have been traditionally treated with fillers or plastic surgery.
Fibroblast Plasma Pen is the world's most advanced, non-invasive, skin lifting, skin tightening, and rejuvenation device used to treat wrinkles, and sagging, dull skin. The Plasma Pen is an FDA approved, CE approved device used to perform fibroblast therapy, a technique used to stimulate the production of collagen in the skin.
How does it work?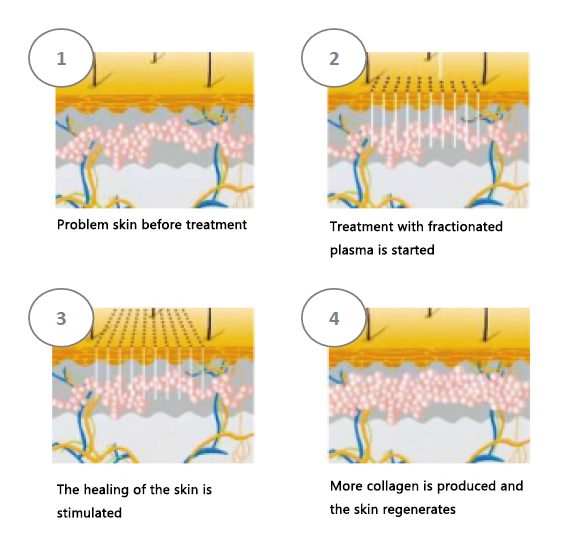 The Fibroblast Plasma Pen harnesses the power of plasma. Plasma is the fourth state of matter along with Solid, Liquid, and Gas. The principle involves the ionization of gases from the atmospheric air to create a micro-electrical discharge or ARC. The ARC never touches the skin but causes a micro-injury to the skin's epidermal layer whilst simultaneously heating and disrupting the deeper dermal structure via thermal conductions. This is more commonly known as Fibroblasts. Fibroblasts are the most common cells of connective tissue in the body that produce collagen. Collagen, often called the framework of the skin, provides essential structure and can help turn back the hands of time by smoothing wrinkles and reversing skin laxity. After approximately one-week plasma treatment, your skin will be mostly healed and your final results will begin to appear. As collagen production continues, you'll see your skin tighten. Collagen production continues for weeks, and this powerful protein helps restructure the skin around your eyes and delivers results that can last for up to three years.
What is a Fractional Fibroblast Plasma Pen?
World's First Plasma pen with Fractional & Cold Technology
Fractional Fibroblast Plasma device uses the needle-shaped plasma column to release micro-electrical discharge or ARC to treat a fraction of the skin surface at a time, which reduces downtime.
 
Cold Plasma Mode

Fractional Plasma Mode

Single Plasma Mode
The advantages of Fractional Fibroblast Plasma Pen?
Compared to Fractional RF, whose energy just reach epidermis, so can't treat wrinkles and scar problem in dermis. Needles don't contact skin to operate, not be influenced by skin resistance.
Compared to Fractional laser, Mjolnir's investment cost is much more economical, but can cover all the application of laser. Safety risk to operator and patient both are much lower, and can be used more widely, no any medical limits.
Compared with normal plasma, whose current excitation is performed at a lower frequency, and the plasma column has poor directivity and low power. Single plasma's treatment needs much longer time, the energy is difficult to control, un-even treatment depth, and dots' consistency is poor, so more dangerous and bigger damage risk to skin.
Compared with Micro-needle RF, which is purely invasive treatment way, Mjolnir is much less dangerous and has much lower consumable cost.
What is Fractional Fibroblast Plasma Pen Application?
Improve skin texture and tone: rough skin, large pores, greasy skin, acne skin with inflammation, dark yellow skin, un-even pigment, skin resurfacing, help adsorb cosmetics.
Eye treatment: eyelid and eye bags
Wrinkles: striae gravidarum, stretch mark, striae atrophicae, aging wrinkle
Anti-aging: aged skin, flabby and flagging skin, no elasticity
Scars: acne scar, surgical scar, proliferative scar, burn scar, traumatic scar

Fractional Fibroblast Plasma Pen Device